DAY 2

I had a wake up call at 7:35, I had showered the night before and laid out everyone's clothes...today we were celebrating Aiden's birthday and were headed to DHS(MGM)...so Jedi Mickey T-shirts for the boys Rhett had found the artwork, and I had their shirts printed at Vista Print...I think they were around $5.00.
We got out to the bus stop around 8:15 and were in plenty of time for rope drop. Rhett headed straight to FastPass ToyStory, and we followed behind, jumping in the standby line and riding it...our wait was about 12 minutes.
We all loved this ride, it was so much fun!
The whole park heads to this attraction at rope drop, so fastpassing it and riding other thrillers may be a good option too!
After finishing up Toystory, we headed to the Tower of Terror and Rockin Rollercoaster. Aly isn't tall enough for RR, but TT is one of her favorites.  Rockin Rollercoaster is alot of fun.  Rhett and I were cracking up at how creepy some of the Cast Members for the Tower of Terror ride appear.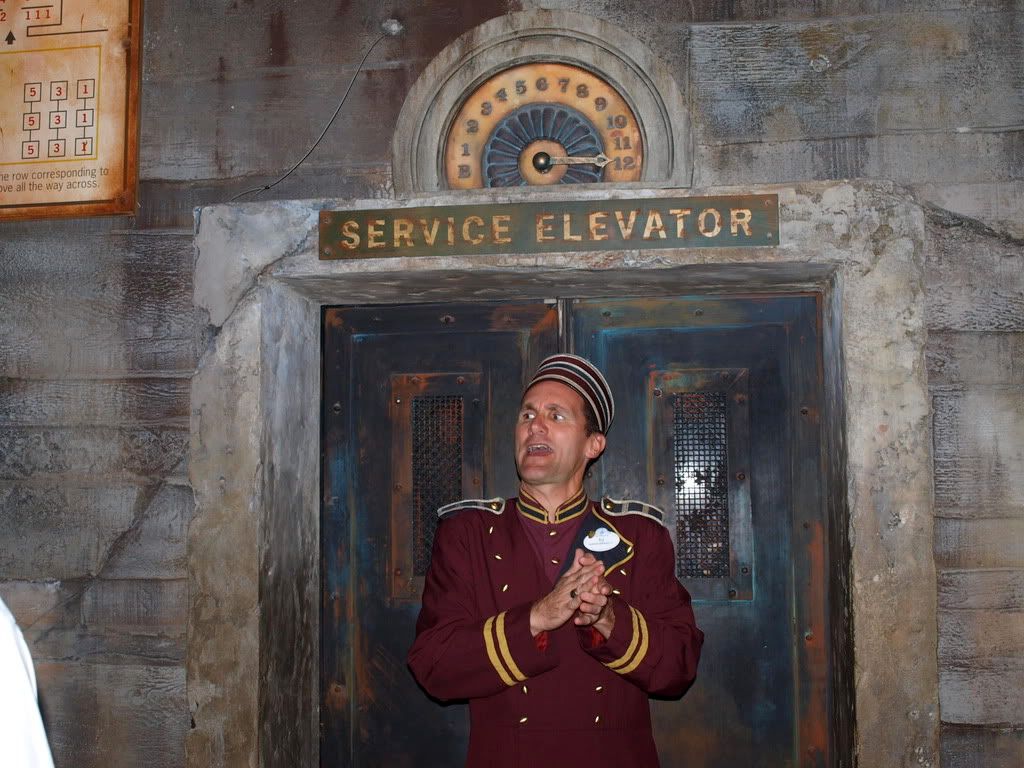 This ride was great as always, and Aiden we discovered is quite the screamer....I don't remember him being so vocal last trip, but this time he screamed MAMAAAAAA quite a few times!!! But was overcome with excitement when the ride was over!
After doing the two thrillers we headed to Jedi Training... Ethan was the first one chosen out of the crowd....I was so scared Aiden wouldn't get picked, and was envisioning how heartbroken Aiden would be if Ethan got picked and Aiden didn''t especially since we were celebrating Aidens Birthday on this day....but the Jedi Master quickly put my fears to rest and choose Aiden as the second one for the stage. For others wondering, they were wearing Jedi Mickey t-shirts and jumped up and down like fools!! I was so impressed with the interaction in Jedi Training, they really go all out..and this was a highlight of the trip for the boys!!! Here are a few pictures of that, but the photopass guy got some exceptional ones, I ll post those when I get my CD!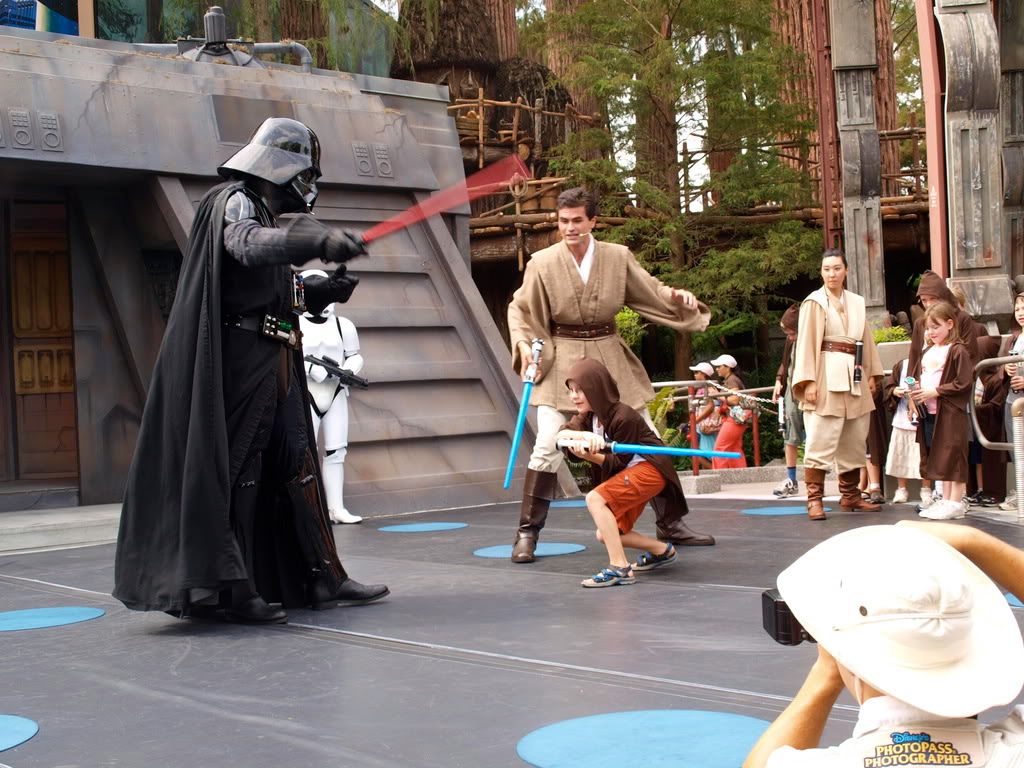 Our reservations were for Sci Fi at 4:15pm...I had tried and tried to get a better time before our trip, but was never able to. Well while we were at Jedi Training I called and was able to get us in for lunch at 11:25 so we headed straight from Jedi Training to lunch. It was good and the kids enjoyed the atmosphere. After lunch we went and hit some of the character stops...last trip we missed the power rangers and this was a big priority for Aiden.
And because I know your all dying to see Power Ranger Pics I ll gladly post those when we get our Photopass CD :)
We then went back and used our fastpasses to hit TOy Story again, we tried to get one more ride on TSM in, but the wait was 45min...we don't do those kind of waits!
After wandering a bit, and doing a few more rides we went and watched Beauty and the Beast, what a great show this was.
We followed BB with Little Mermaid, I could do without the little mermaid show, but the kids loved it and it was dry and cool!
About this time the skies opened up and the rain began, and this was not a small downpour. We hit Prince Caspian, the drawing class, and star tours during the monsoon. Luckily we had bought ponchos at Epcot, and the kids rain coats held up like champs! After star tours we waded over to TT and RR again, and took turns riding RR with the boys, I think we got in 3 more rides and then rode TT twice more. All the rides were walk on. On a side note, with it raining there were several large groups from other countries, I think some were from Brazil..anyhow, several of the older women simply removed their shirts and were walking around in their bras with the Disney clear ponchos on...it was so odd!
We ate dinner at the ABC commissary, really MGM/DHS has the worst park food...but it sufficed! We hung out and crossed our fingers that Fantasmic would not be canceled....luckily it wasn't! Around 7:50 we went and got seats, DH got seats in the 7th or so row from the bottom, and it was AWESOME! The kids loved the show, and we enjoyed it more without the kids whining like they did last year! This was a commando day, we had never spent 12 hours in a park, but it was a good day. We did have periods that we took slower...but it was a great day! We left after fantasmic and went to bed as a happy bunch!