After SOARIN we headed to Living with the Land...we are geeks...we LOVE this ride. While we were inside, it had began to sprinkle...Rhett and I realized on the drive over that we had forgotten our ponchos, the kids had their wind/rain breakers in their camelbacks...anyways the point, it was raining and Rhett and I had no Ponchos... the kids pulled their jackets out, and we decided to tough it out..it wasn't raining hard enough to get us very wet. So we all headed to Figment.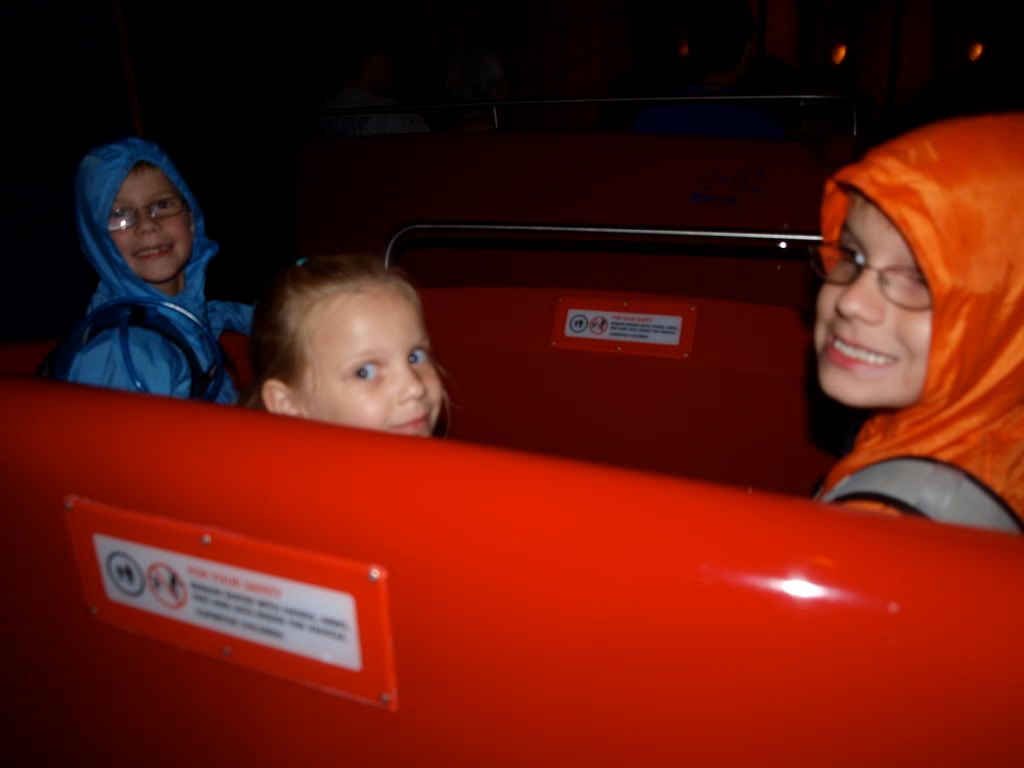 Ethan held his nose the whole time, in anticipation of the skunk smell.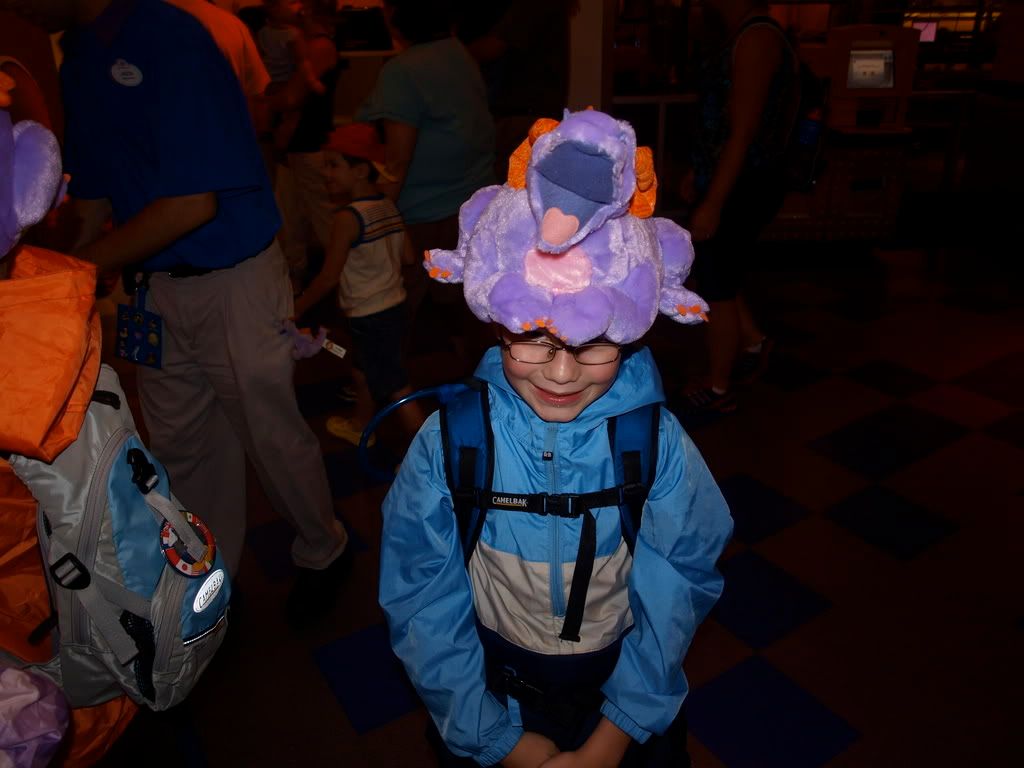 Figment is one of my favorite characters.
So far everything was basically walk on, even though we had fast passed Soarin, we could've walked on...we decided to use the fastpasses out of principle..:).Heading out of Figment, we decided to head to the Character Spot. The characters were all inside because of the rain, and the lines were moderate we waited about 5 min to see all of the characters.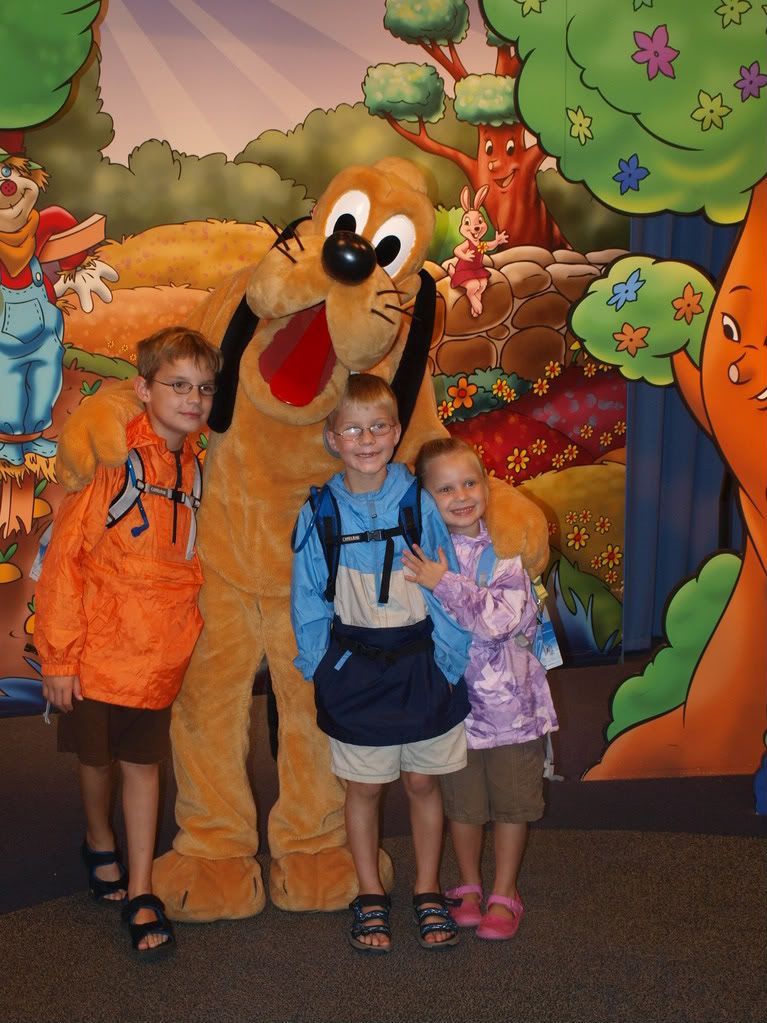 The Photog that had taken our first Epcot pic of the day was in the character spot, and remembered us...even asking where my other child was when he was in the bathroom.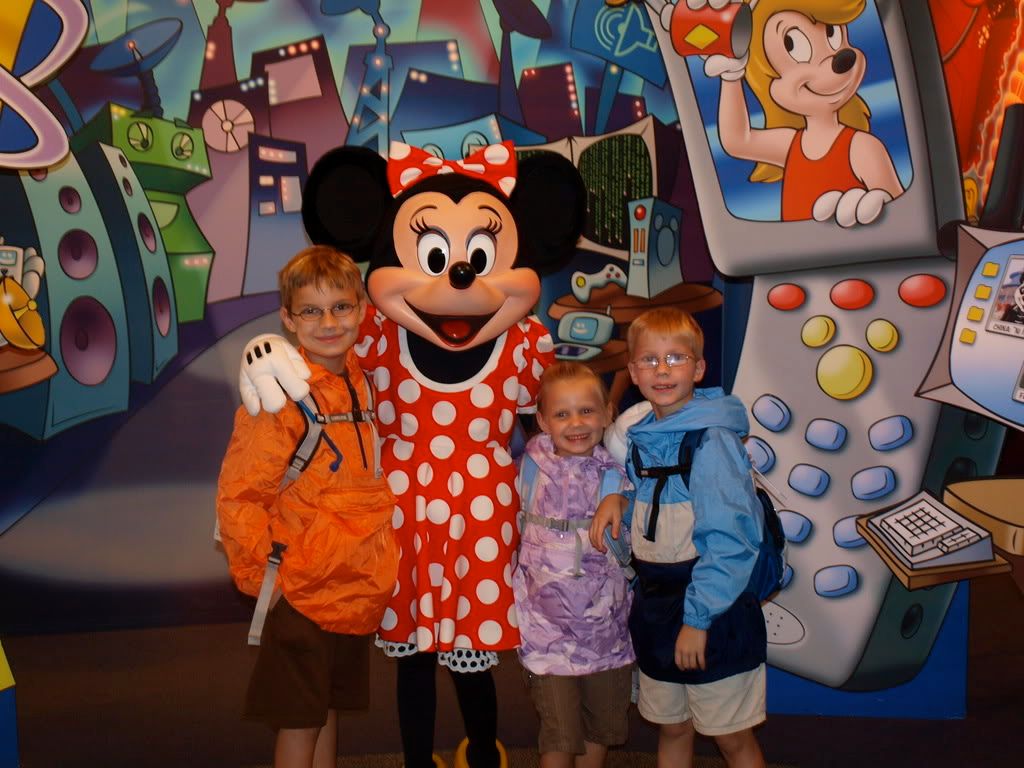 The Character interaction was great, all were playful and sweet....I couldn't have asked for more.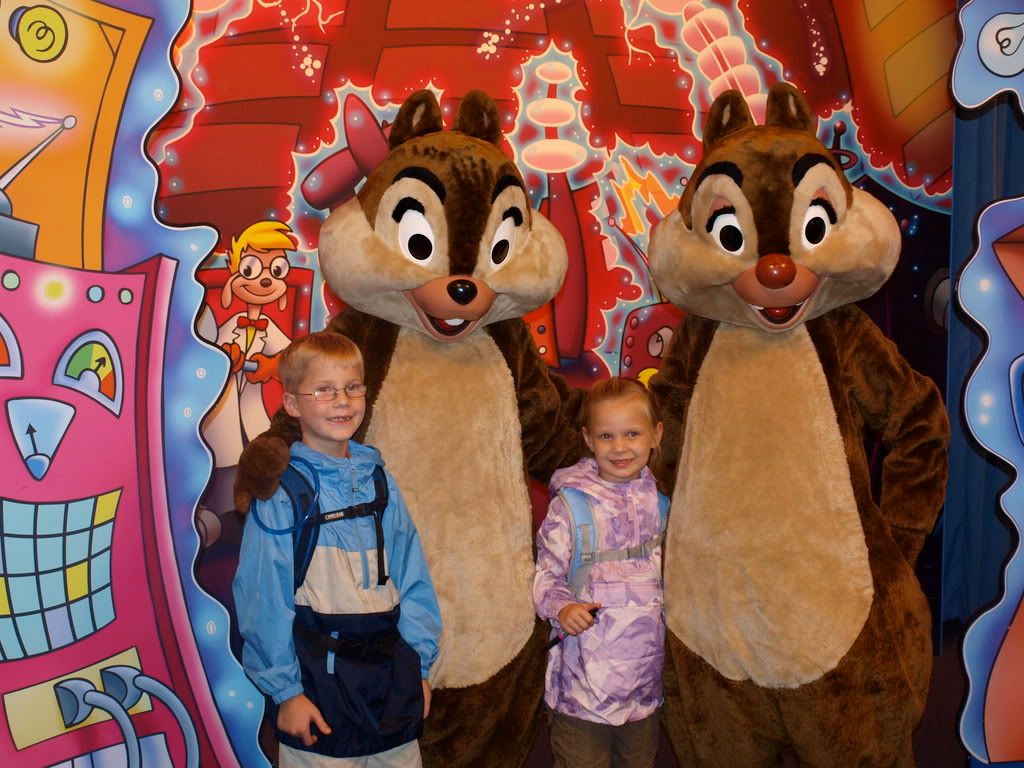 With the rain and the low crowds our pace was very relaxed...dinner reservations weren't until 8:10pm, so we really just took our time. After the Character spot, we headed over to Spaceship earth, I haven't ever been on this ride since I guess it was refurbed eons ago...anyways, it's a cute ride, and all of the activities in the building are fun too. It was nice not to feel rushed and just to experience whatever came , and wherever the kids kinda migrated to. We then hit Mission Space, the Green side. Test track was closed due to the rain. So we headed to world showcase. We ran into more characters along the way...`Our kids all carry camelsbacks which have water in them, but have pockets for their autograph books, rainjackets etc. Well Mulan was fascinated by them, she asked the kids "What is this," Ethan says "It's a camelsback" Mulan says "that's funny you look nothing like a camel." Ethan said "Im not a camel, that's just what its called..it holds water so you can have a drink even when your walking" MUlan says "Mushu we must get some of these strange contraptions for our army so they are not thirsty...I still don't understand the name though, they look nothing like camels."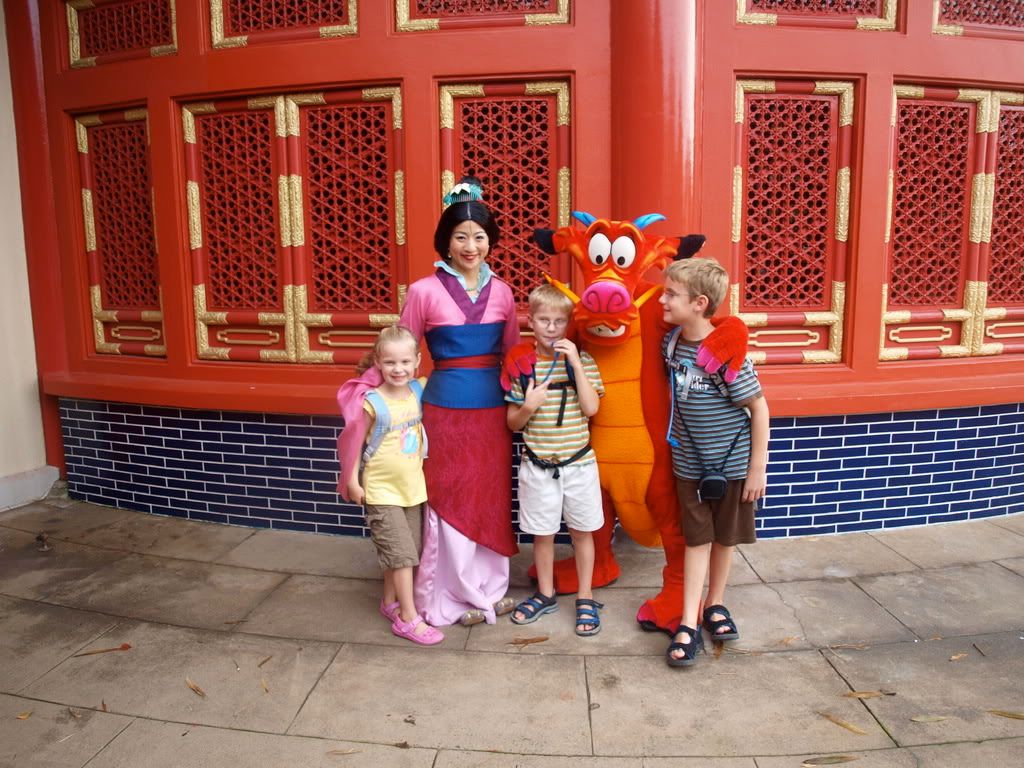 It was so funny they had like a 5 minute conversation about the backpacks. Right when we were done Mulan and Mushu took a break, so I was thankful for that little bit of pixie dust! We just kinda wandered the World Showcase...and to fuel the notion that I am truly the Worlds Meanest Mom, who makes their kids carry their own things in theme parks I submit this pic...not only do I make them carry their own bags, but encourage them to push each other in the stroller as well.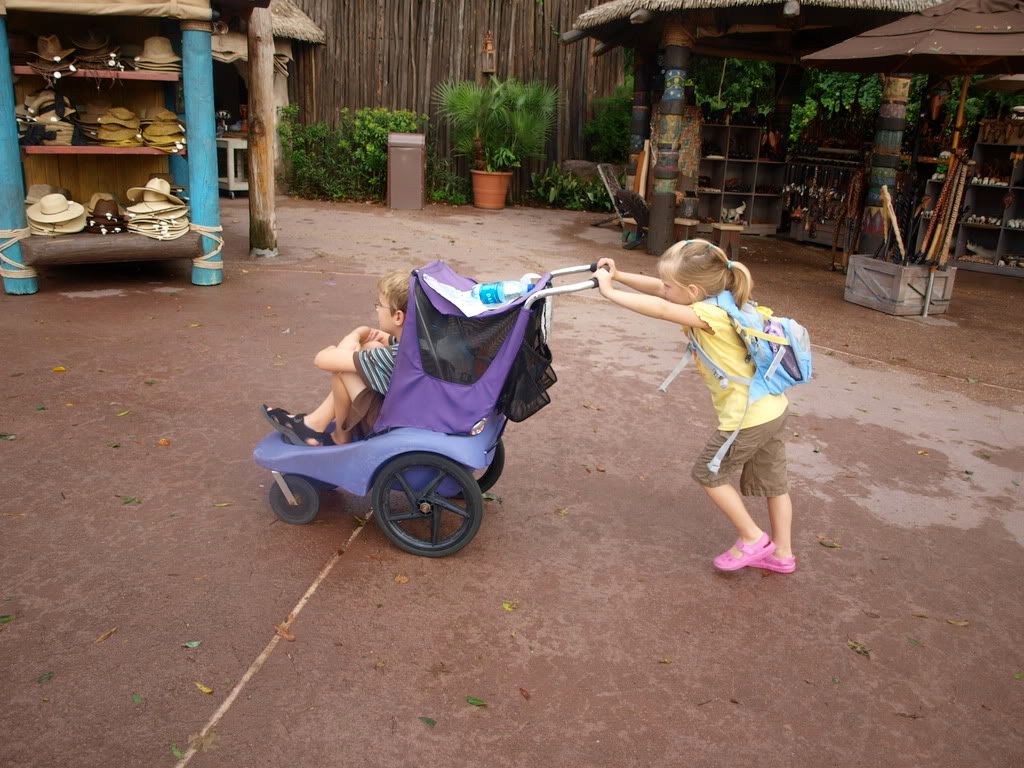 I found myself walking hand in hand with Rhett, the only thing I was carrying was our keys to the world which were in a lanyard around my neck, Aly was pushing Ethan and Aiden was just kinda tagging along. The kids were begging to push, and the crowds were SO low that we weren't endangering anyone by letting them!We had joined the stroller swap, but weren't going to get it until the next day. So we decided just to be safe to rent a single stroller and the kids could take turns...really this is our best bet, we're not ready to be completely without the stroller just yet, but don't need a seat for all 3 either.Around 4 or so we stopped in Germany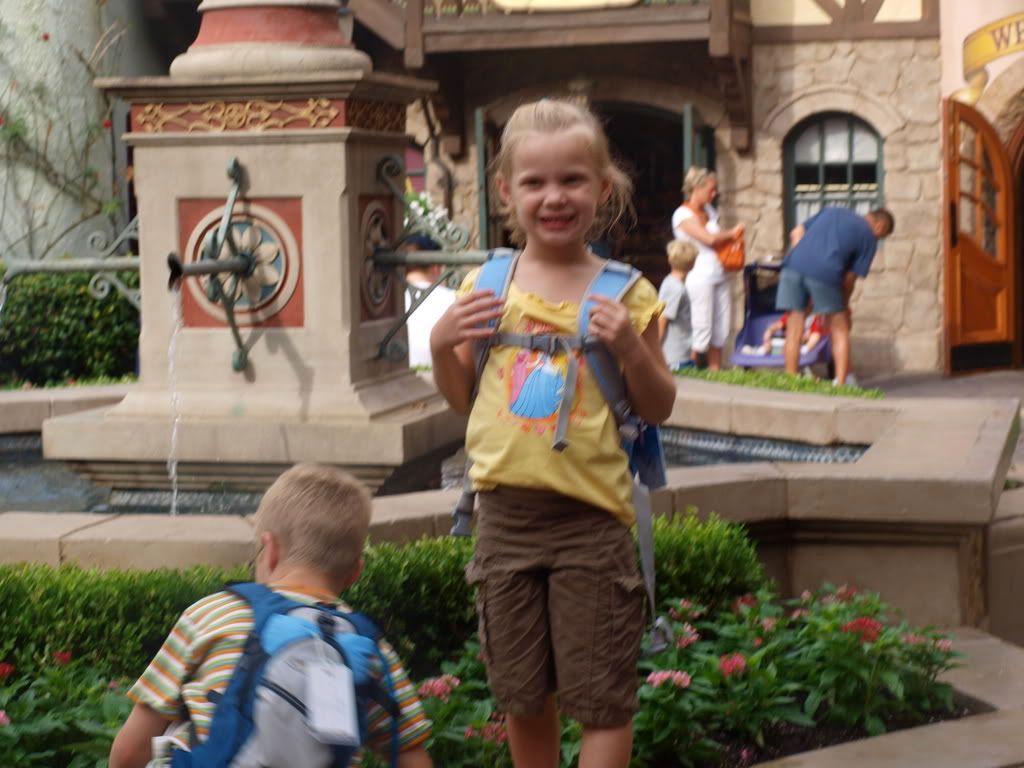 and got a Brat, and an apple fritter...YUMMO is all I can say, I love spreading our CS out around the whole world showcase! We actually only used 3 CS out of our 5 on our first day!(Sidenote: as a part of the disney dining package (which was FREE this trip) we got 5 CounterService(CS) meals, 5 Snacks, and 5 Table Service meals per day. Counter Service is any of the fast food like counters in any of the parks or resorts and Table Service is any of the sitdown, or buffet meals on Disney property I think there are more than 100 to choose from, a snack is basically any item in the park under $4.00.)
For Dinner, we had chosen to dine in Norway with the Princess'. Aly was in heaven, and the boys enjoy it too. We saw Belle, Aurora, Ariel, Jasmine, and Cinderella. We have some great pictures, but the best ones are on our Photopass CD so I 'll post those when we get it!